Discover the Rotek® Difference.
As the North American industry leader, Rotek® sets the standard in bearings. Our secret? We only use our own high-precision seamless rolled rings in our bearing production. A completely integrated vertical manufacturer, Rotek supplies rolled rings to a wide range of industries. And now, we do it even faster with Fast Track.
To get a Fast Track quote now click here: Fast Track Quote
Start saving with simplified ordering and quicker turnaround times.
Rotek® now offers a streamlined ordering and production process that enables us to ship products to you faster than ever before. Aptly named Fast Track, it ensures that eligible orders see condensed lead times to better meet your business requirements. The perfect blend of speed and convenience, Fast Track is just another way Rotek delivers exceptional rings to meet your rolled-ring needs.
From production runs to cooling, inspecting, testing and shipping, Rotek's process ensures the highest quality standards and shortest possible lead times. For your company, that means less inventory, less overhead and improved productivity.
Learn more about how Fast Track can improve your efficiency, Click here to get a Fast Track quote. Or, call us at (330) 562-4000 or toll-free at (800) 221-8043.
Learn more about Rotek's full range of capabilities at www.rotek-inc.com.
For more information on Rotek's name change to thyssenkrupp rothe erde USA Inc., please visit http://www.ringsandbearings.com/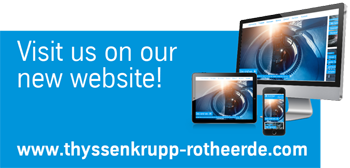 Fast Track Products
Fast Track is currently available on select untreated and normalized rings.
:
20 in. (500 mm) OD – 85 in. (2,160 mm) OD
:
Up to 3,300 lbs. (1,500 kg) per ring. Total shipment weight not to exceed 20,000 lbs. (9,070 kg)
Up to 25 rings per Fast Track eligible order
:
AISI 1040
AISI 1020/1022
AISI 1045
ASTM/ASME 105 (A36 Compatible)
ASTM/ASME 350-LF2 (Class 1 or 2)
ASTM/ASME 181 (Class 60)
ASTM/ASME 516 (Grade 70)